the DOUGLAS
It was my sweet boyfriend's first time in Vancouver, let alone outside of the United States (he lives in Los Angeles), so I wanted to surprise him with a little "staycation" !! He is a designer/craftsman that works with wood, so I couldn't think of a better place than the DOUGLAS, since it features beautiful dark wood throughout the entire hotel! It really is a magical place full of elegance and nature.
★ Photo was taken in their elevator that is so freaking cool. →
Centrally located in downtown Vancouver, right beside BC Place and Rogers Arena.
Behold! The majestic log desk in the lobby!
Colin (my boyfriend) was in complete awe of this . . . ( I knew he would be! hehe)
It's lit up in a delicate glass case which makes it look even more majestic and stunning!!
The city views are breathtaking
Opening the door to my suite, I honestly didn't expect such a massive place (1200 sq ft)! We had the pleasure of staying in the "One Bedroom Suite" which included:
▽ Separate bedroom (comfiest bed you'll ever experience)
▽ Social living room (plush sofas & large screen TV with movies)
▽ Wet bar (complimentary bottled water & Illy coffee)
▽ Small bathroom AND a large bathroom with a double sink vanity and shower with the most incredible city views (highly recommend showering with the lights off at night… the city lights are magical)
▽ Gorgeous city views throughout the entire suite (I still can't get over it)
Having done a collaboration with the JW Marriott back in January, experiencing the Douglas during the Juno Award's, and having this be the third time collaborating with the hotel, it's safe to say they're officially my fam jam!
I could get use to this . . .
especially this bed . . .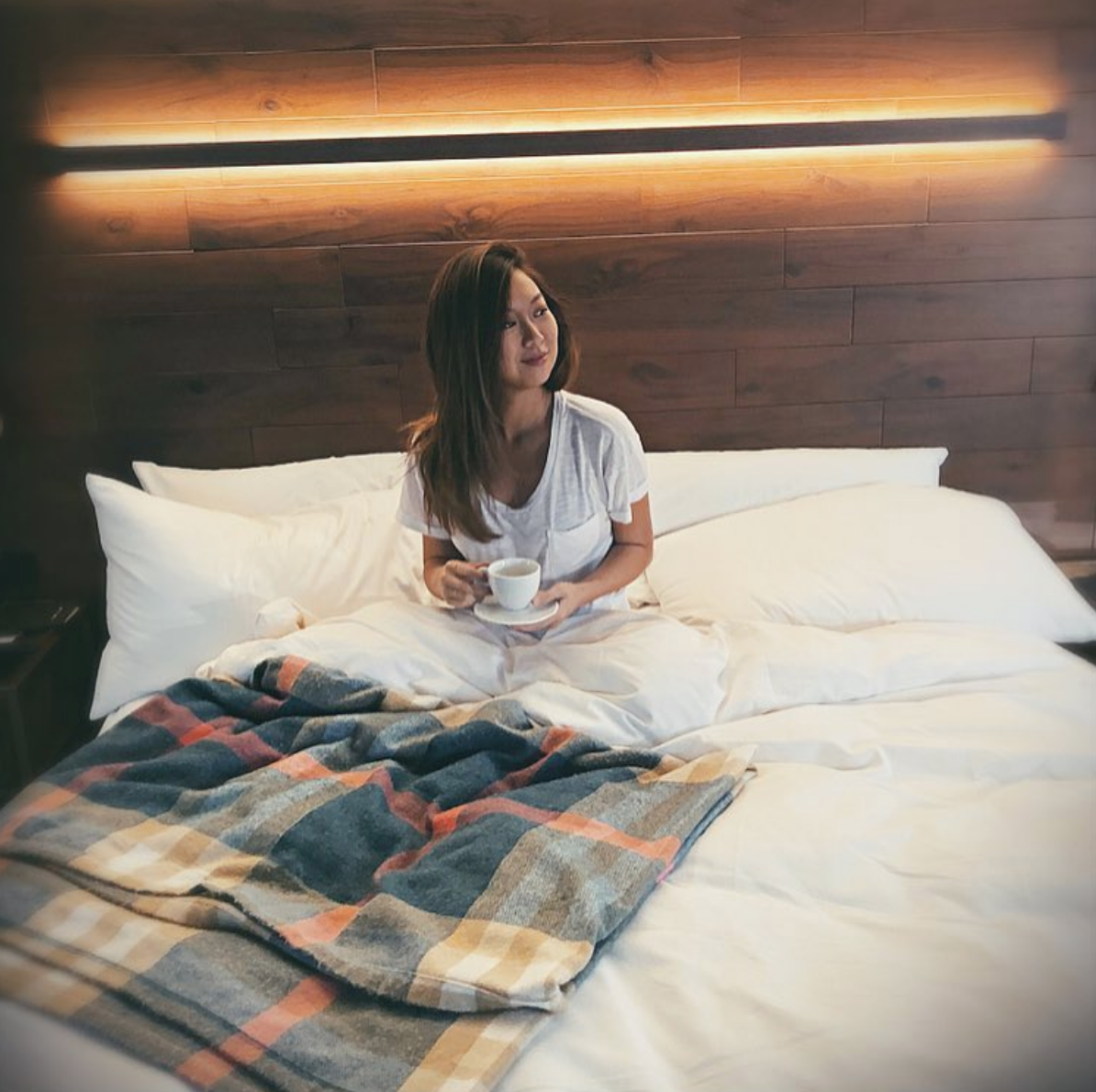 ▽ Restaurants : Honey Salt, The Victor, BC Kitchen, 1886, MRKT East (Room Service Available)
▽ Bars : D/6 Bar & Lounge, Centre Bar, Lotus Whiskey/Tea Lounge
▽ Spa, Fitness & Business Centre
▽ Laundry Service / Dry Cleaning
▽ Casino ( Super fun, but be prepared to lose some money, unless you're lucky 😉 )
▽ Internet & Parking ( extra cost )
IT was SO DAMN COMFY !!!! ♡
▽ The entire suite was unreal, but the master bathroom with the shower views was definitely the biggest highlight for me.
▽ Can someone please buy me that BED?! We still can't get over how damn comfy it was!
▽ We went and enjoyed a dip in the outdoor jacuzzi on the rooftop in pouring rain, which was a lot of fun and quite romantic. (Water could have been warmer doe)
▽ Happy Hour at Honey Salt and BC Kitchen. (Highly recommend cocktails at BC Kitchen and the mussels at Honey Salt)
▽ Gambling at the Casino (even though we lost 75% of the time haha)
Thank you, to the Douglas for spoiling us and making our stay truly unforgettable!
Until next time . . .
G x x
"IN LIFE, IT'S NOT WHERE YOU GO, IT'S WHO YOU TRAVEL WITH." ♡